Steve Aoki's Five Craziest Show Moments
Listen to Steve Aoki Radio on iHeartRadio
Steve Aoki just released the first disc of his two-part album Neon Future on September 30th. Neon Future I includes collaborations from some very talented and some unexpected artists like Fall Out Boy, will.i.am, Waka Flocka Flame, and more.
On his new album and collabs, Steve tells iHeartRadio, "To me it's not even dance music, it's like a rhapsody, we really go into a different world. That's the great thing about working with other artists is that you don't know where you're going to go, and it's exciting to go in this uncharted territory together, and explore something brand new. And then you get there and you're like, 'Wow! We got here and there's no planning!' You can't plan something like that. It's like when you fall in love, you don't understand why you got there, but you're like, "F***, I'm so happy to be here."
He also tells us about writing songs versus just making a song with a crazy drop. "That's the thing with a lot of the songs on Neon Future, I'm writing songs instead of writing, 'Okay, I've got to write a build, let's do the crazy drop!'"
Steve also talks about the theme of Neon Future. He tells iHeartRadio, "It's exciting to think of technology. I mean we're already doing that, we get excited when we find ways to cure cancer. No one wants to die like that, and see the people we love die. The idea of creativity and music and art, all expanding and getting more exciting and more beautiful, that's also part of this Neon Future. "
After conquering countless festivals this summer Steve owned the stage at one of THE most buzzed about festivals - the iHeartRadio Music Festival at the MGM Grand Arena in Las Vegas last month. He pretty much Aokified the iHeartRadio stage!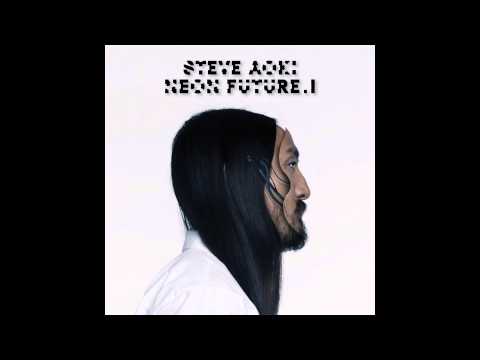 Photos: Katherine Tyler for iHeartRadio